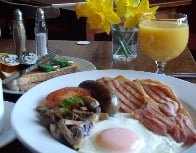 Breakfast is served every morning from 7:30 to 8:30 and we offer a varied choice. Breakfast cereals, orange juice, fruit and yoghurts preceed our cooked breakfast served with lots of tea and coffee and hot buttered toast.
Our Restaurant
We offer a varied menu from traditional pub favourites to daily specials using locally sourced ingredients in season. We cater for special diets and vegetarian/vegan options are available on request however we can give you more choice if you inform us before your stay or visit.

Traditional Sunday Lunch
Have you tried our traditional Sunday lunch yet? Beautifully roasted meats, creamed and roast potatoes, fresh seasonal vegetables all served with yorkshire pudding and the appropriate sauces. A delicious combination and at just £7.49 it won't break the bank! Don't forget we do not increase our prices for Mother's Day or Easter.

Booking essential during this very busy period, just call 01691 830295
or 01938 553505 to reserve your table now.